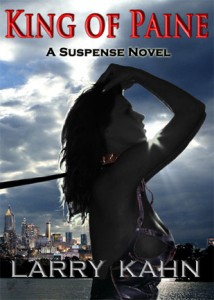 "I seriously think King of Paine is the most canny and intelligent suspense piece I've ever read."–Miraculous!
 "Larry Kahn has managed to create a cast of unforgettable characters, throwing in a bit of sex and misadventure, while infusing it with legal, moral, and ethical dilemmas. To say that I thought the King of Paine was brilliantly written would be an understatement. I sat down to read the book in the morning and was unable to put it down until I read the very last page!" —The Write To Make A Living
"The writing is perfect…Plus, that plot? Holy hell! I never could have seen the twists and turns coming." —Owl Tell You About It
A desperate patient.
A rumored cure.
How far would you go to save your own life?
King of Paine is a sexy, fast-paced suspense novel filled with characters who grapple with a range of intriguing end-of-life issues while everything they care about is at stake. The story follows two investigations, Special Agent Frank Paine's pursuit of a stalker committing a series of kinky Internet crimes and a reporter tracking the disappearance of wealthy senior citizens across the nation. Both paths lead to a hidden enclave where a brilliant biochemist harbors a deadly secret. Somebody is going to die there, and it may be Frank Paine's soulmate. Or him.
Readers who liked The Girl With The Dragon Tattoo or the novels of Greg Iles will enjoy settling in with King of Paine for a sexy, thought-provoking ride. Buy the book:
EBOOK:  AMAZON
   BARNES & NOBLE   SMASHWORDS    

PAPERBACK:  AMAZON
   BARNES & NOBLE   NORTH ATLANTA PRESS
Reviews
Editorial Reviews:
"One's past is a vicious weapon. "King of Paine" is a spinning novel from Larry Kahn, as he tells the tale of Ex-Hollywood star turned FBI agent who quickly finds that his sultry past will more than screw with his new noble career path. Angry exes and vicious stalkers make "King of Paine" an enticing combination of spy thriller and romance with a dose of intrigue, highly recommended." –Midwest Book Review
From the Book Blogs:
"…a roller coaster ride of who done it, oops, no they didn't. But it's not just that, the story makes you think and ask yourself some really important questions…The author Larry Kahn gently guides you into a fascinating world. He literally allows your mind to run free, while still staying extremely connected to the story line. Although that may sound odd, once you read this book, you will know exactly what I mean." —Forbidden Reviews
"I seriously think King of Paine is the most canny and intelligent suspense piece I've ever read. Kahn's literary style is, I cannot stress enough, very impressive, and his organization and consistency of thought (which are the essential elements of a good whodunnit) amazes me…It is [expletive deleted] fantastic, not only for its stunning depth and complexity, but for its all-encompassing message that love, even when all hope is lost, shall prevail, but only if you really try, and only if you are willing to sacrifice all you have now and all you worked for in the past, to make it work out…This book will become your newest obsession as well as your biggest nightmare."—Miraculous!
"If you like strong mystery thrillers with plenty of tension and suspense, then this novel is for you and is a far better read than many of the mass-market thrillers that you can normally pick up from your local supermarket shelf!…Don't let yourself be put off by the mentions of BDSM either because there is nothing very explicit in the text and in fact much of what Mr. Kahn mentioned is very tame, carrying only the merest hint of eroticism. The characters are well conceived too and the way the two plot threads eventually string together is very cleverly done." —The To Be Read Pile
"I found the story to be an intense, complex and fast paced which kept me glued to the book every evening. The thrills keep on coming from start to finish as the novel takes your emotions on a enjoyable roller coaster ride of twists, turns and red herrings. The writing is also clean, concise and flows smoothly which really helps to keep the reader hooked. However, the novel isn't for the prudish as it does take you into a world of sexual games and role play. However this is all described tastefully enough and is actually a small part of the novel so don't let it put you off." —Books And Things
"King of Paine is a tautly written, absorbing page-turner. I usually can guess the ending to a police procedural by about the third chapter.  This is not the case with Mr. Kahn's wonderful new book…I highly recommend this book." —Hampton Reviews
"King of Paine is the second book I have read this year that I thought would make a great movie…I definitely recommend this one. Once I started reading, I couldn't walk away from it." —From the TBR Pile
"This is the kind of book where you can open it on ANY page and the story just pulls you in. It's that good!..His characters, in particular Jolynn are well thought out and masterfully crafted. I have to admit I've heard the comparison between The Girl and the Dragon Tattoo and King of Paine and in my opinion, Kahn is better. I was never bored, in fact I hung onto every word in this story." —Boekie's Book Reviews

"KING OF PAINE is filled with suspense, intrigue and murder. It's a fast-pace adventure that will hold readers spellbound. The writing is smooth and flows easily from one scene to the next." —Thoughts In Progress
"I liked that the antagonist seemed both real and elusive; the author did a wonderful job with the sometimes gloomy and dark undertones that drift within the book.  The ending was perfect, wouldn't change a thing." —Live To Read
"The King of Paine by Larry Kahn is a complex, compelling, fast paced and intriguing thriller that will have you turning the pages well into the early morning.  The writing is crisp and pops off the page." —Todd Fonseca
"King of Paine is more than a suspense novel, it invites the reader to explore the boundaries of our own addictions (whatever they may be). It also inspires one to take a look at the way that we treat the people we love and how we care for the elderly in this country. This is not your ordinary suspense novel." —The Write To Make A Living
"You wouldn't expect a story that starts off with a newly minted FBI agent trying to figure out how to keep his personal past separate from his new professional life to take the path it does, but there are lots of issues to be explored here.  What is the difference, truly, between fantasy and reality and what role does the anonymity of the internet play in that?  At what point does a person's health and well being trump their self-determination?  What role do outsiders get to play in that determination?  There are lots of issues to think about here and it adds depth to the story." —What Book Is That?
"Now, let me go ahead and dispel one myth about this book. I don't really think it's comparable to The Girl With the Dragon Tattoo. I think it's better. At least, it's better than the English translation. While the Millennium series bored me sometimes, I was totally riveted to this book. I was reading it everywhere, as much as I could." —Owl Tell You About It
"Paine's motives for discovering the truth are obvious throughout and he uses a dogged determination to pursue the end of the trail, which was suspenseful and surprising.  The author used every trick in the book to hide, deceive and suspend each turn and angle.  It was a wonderful trail of discovery I was lead on and I am very happy to recommend this book. " —Paper Mustang
"Kahn has written a thriller with teeth. His characters are quite jaded and yet also very likable. They have their flaws as well as their dark sides…Technology and medicine set the backdrop to this work, and the context of meaning leaves you wondering. Kahn as done an excellent job with red herrings, and the twists and machinations of the killer send you in directions you never see coming." —Blog Critics
"Kahn's writing is well paced and his character development is superb." –Kathy LaMee on TracyRiva.com
"You must read this book for yourself, it is a nail bitter for sure, will keep you turning the pages, will keep you in total suspense, the twists and turns are ones you will not figure out and when they happen you will say, "OMG, I did not see that one coming"  Larry did an amazing job with the story, plot, and characters.  I loved every minute of this book and you will not regret picking up your copy, sit down, buckle up and hang on for the ride you won't soon forget!!!" —Purple Jelly Bean Chair Reviews
Product Details
Trade Paperback: 364 pages
Publisher: North Atlanta Press (August 2011)
Language: English
ISBN-10: 0983760128
 ISBN-13: 9780983760122
Also available as an ebook